In Arsenal's matchday thirty-five fixture against Chelsea at the Emirates Stadium, fans of the Gunners were heard chanting two distinct chants aimed towards Chelsea's manager, Frank Lampard. The first chant was "are you Tottenham Hotspur in disguise", which is a jibe at Chelsea's fierce North London rivals. The second chant, "Super Frankie Lampard", was a sarcastic remark aimed at the struggling manager.
Lampard has had a difficult season with Chelsea, with the team struggling to find consistency and currently sitting outside the top four in the Premier League table. Many fans and pundits alike have criticized Lampard's management style, tactics, and team selection.
It is clear that Arsenal fans were taking advantage of the situation, reveling in their team's three-goal lead over their rivals and using the opportunity to poke fun at Lampard's struggles. The chants also highlight the intense rivalry between Arsenal and Chelsea, with both teams vying for supremacy in London and beyond.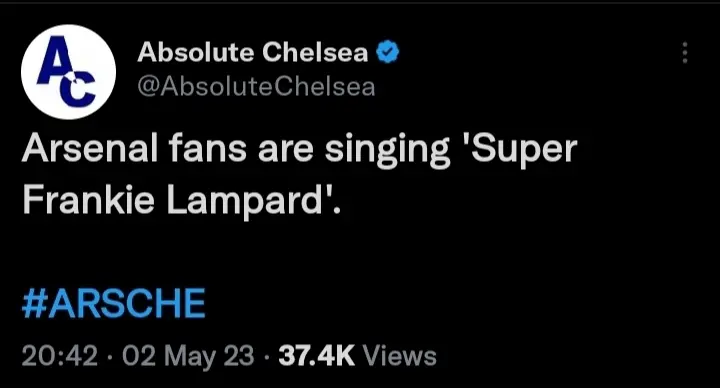 However, it is worth noting that Lampard is a respected figure in the world of football, both as a former player and now as a manager. While his tenure at Chelsea has been difficult, Lampard has shown signs of improvement and has led the team to some impressive victories.
Regardless of the outcome of the match, it is clear that the chants from Arsenal fans towards Lampard were meant to be playful jibes rather than serious criticisms. Fans of both teams will continue to support their respective clubs with passion and intensity, and it is this rivalry that makes the Premier League one of the most exciting and entertaining leagues in the world.