Chelsea defender Axel Disasi has now claimed that one of his new teammates convinced him to move to Stamford Bridge months before he did.
He told The 5th Stand App that Benoit Badiashile's explanation on what he experienced after his debut made his mind up about joining the club.
Disasi has been an ever-present so far this season for the Blues, impressing as one of the many new signings to the club.
One player he is yet to feature alongside yet is former teammate Badiashile, who has been injured all season.
However, he has now admitted that it was the Frenchman who convinced him to join more than six months ago.
He said: "When Benoit signed six months ago, I watched his first game and I sent him a message. I just congratulated him and told him he did well, stuff friends say you know.
"He thanked me and told me all about the Premier League, how passionate the fans are and how incredible the league is.
"I've always wanted to play in England and that message from Benoit made up my mind. I wanted to come to the Premier League.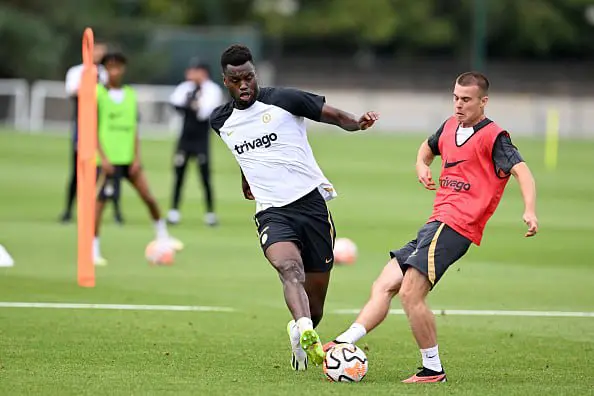 "He was one of the first people I called when I knew I was coming to Chelsea. We had a great chat on the phone and he said the same things to me as I said to him when he signed.
"We are excited to play together again at Chelsea and everything he told me on the phone, it just reassured me this was the right club to come to."
Chelsea fans will be hoping to see the duo holding down the backline soon, with it likely the last season of football for Thiago Silva.