In a stunning display of skill and determination, Chelsea fans found a new hero in Conor Gallagher as he led the team to a commanding victory against Fulham. The first half goals from Mykhailo Mudryk and Armando Broja secured a crucial three points for the Blues, but it was Gallagher's exceptional performance that stole the spotlight.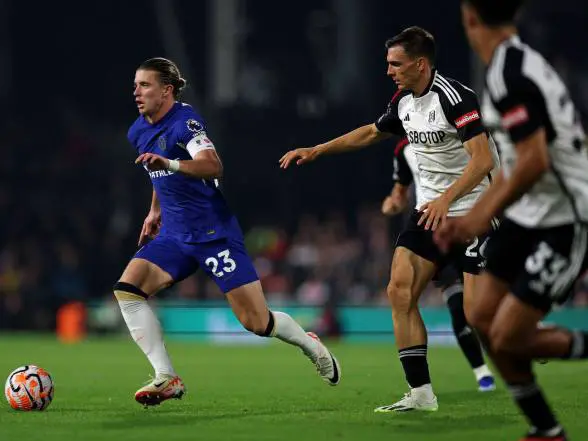 The young midfielder, wearing the captain's armband, left an indelible mark on the game, earning praise from Chelsea faithful. Gallagher's midfield mastery was nothing short of impressive as he seemed to be omnipresent on the pitch. Fans marveled at his ability to dictate the tempo, flying into every tackle with unwavering tenacity.
Gallagher's energy became the heartbeat of the team, with his relentless efforts to win back possession adding a dynamic edge to Chelsea's play. His leadership qualities shone through as he guided the squad with poise, showcasing a maturity beyond his years.
The Chelsea faithful took to social media to express their admiration for Gallagher, hailing him as the standout performer of the match. The midfield maestro's stellar showing not only contributed to the team's success today but also hinted at a promising future for the young talent.
As Chelsea savors the sweet taste of victory, Conor Gallagher emerges as a fan favorite, leaving supporters eagerly anticipating more stellar performances from the midfield dynamo in the games to come.
Comments made by fans can be seen below.