Barcelona has link Ansu Fati to Chelsea this summer transfer as perfect replacement for Christian Pulisic
Ansu Fati and Ferran Torres could be the next set of players to leave Barcelona this summer as the club tries to raise money to sign and register more players for next season.
The reigning La Liga champions have agreed with Athletico Paranaense to sign Brazilian starlet, Vitor Roque, but will need to create a space in their current squad to register him.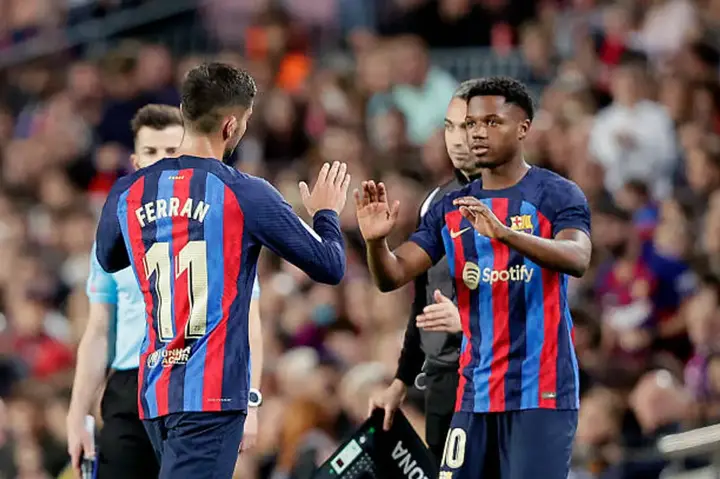 Barcelona can only register the 18-year-old Brazilian this summer if either Fati or Torres accept to leave the club, although that seems highly unlikely.
According to AS Soccer, Fati has a contract with Barcelona until 2027 and has no intention of speaking to other clubs, even though he has been told there are no guarantees he will play next season.
The departures of both players will lessen the La Liga champions' wage bill slightly and allow them to register new signings without complications.
Fati, Torres offered to Chelsea
Meanwhile, Barcelona are willing to trade both Fati and Torres to Chelsea as the Catalans try to recoup some money to balance their books and boost the club's finances, Forbes reports.
The English Premier League side has inquired about possibly signing Jules Kounde from Barcelona, but Joan Laporta wants to add Fati and Torres to the deal.
Chelsea will ask new manager, Mauricio Pochettino what he thinks about the Spain internationals before finalising on making a bid for the Barcelona outcasts.
Fati holds talks with Xavi
Earlier, Sports Brief reported Ansu Fati has tried to do some damage control following his father's recent criticism of Barcelona due to the forward's lack of game time under Xavi.
Bori Fati had revealed that he was angry at Barcelona, especially at Xavi, for the continuous dropping of his son to the bench in a recent interview where he blasted the Catalan giants.
Ansu has now distanced himself from his father's outburst after holding a meeting with Xavi after the incident.