Chelsea travel to Bernabeu with their worst scoring record this season
The Blues have scored 29 goals in 30 Premier League games, their worst record since the 1923/24 season.
The Champions League has quickly become the focus of Chelsea's 2022/23 season after the club's Premier League campaign continues to disappoint.
The London side will face Real Madrid in the quarterfinals of the Champions League on Tuesday evening, fully aware that their chances of playing in Europe next season will be determined by their current Champions League campaign.
Chelsea's possibility of qualification for Europe next year via the Premier League standings is slim as the Blues find themselves with 39 points, closer to relegation (Nottingham Forest with 27 points) than to fifth place (Tottenham with 53).
One of Chelsea's primary issues is in the attack where they have struggled to convert their chances.
"We have to work to find the reasons and solutions for our goal scoring problem," said Frank Lampard after losing to Wolverhampton last Saturday.
A woeful goal scoring record this season
The Chelsea manager is not wrong as Chelsea's goalscoring records are a sorry sight for fans who are used to offensive quality.
Chelsea's scoring record in the Premier League is worrying. The Londoners have scored 29 goals in the 30 games they have played, their worst record since the 1923-1924 season, when they scored 18 goals in the first 30 games and ended up being relegated as second last.
The Blues also have a goal projection that would see them finish the season with 37 goals, which would be their poorest scoring record since the aforementioned 1923/24, when they scored 31 goals.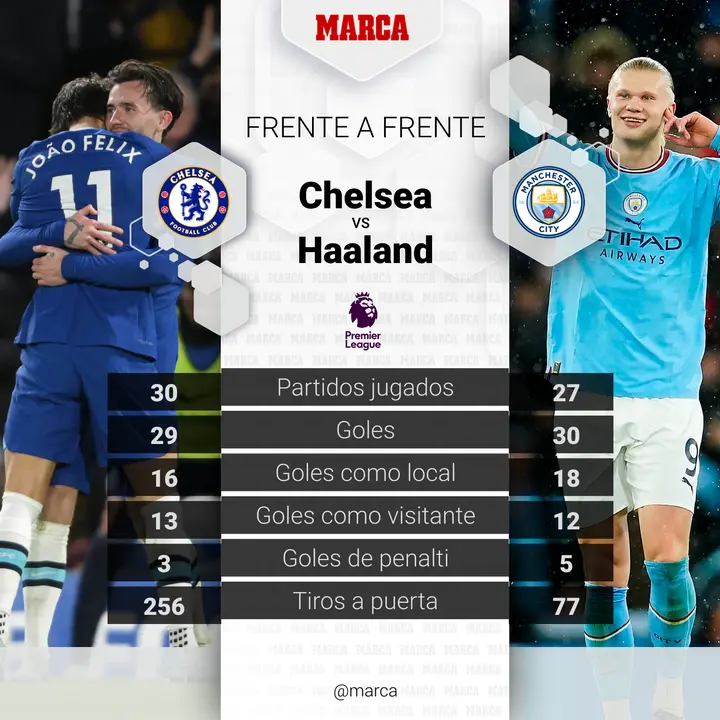 Top scorers and signings failing to find the net
The goalscoring contribution statistics of each Chelsea player have revealed the weak links in the squad.
Chelsea's top scorer in the Premier League is Kai Havertz who has scored seven goals thus far this season.
Despite scoring the most goals for his club in the league this season, the German has failed to find the net since March 18.
Behind Havertz are Raheem Sterling and Mason Mount who have scored four and three goals this season in the Premier League respectively.
The club spent an astounding 300 million dollars on new signings this season and are yet to reap the rewards.
"Some players don't have a history of scoring goals here, or they are new or have come from other leagues. We have to give them time and work with them," said Lampard when analyzing the lack of goals scored by the new arrivals.
Neither Mudryk, Madueke nor Datro Fofana have scored yet, with Joao Felix being the only signing capable of scoring in the blue shirt.
Chelsea will travel to the Bernabeu on Tuesday with their worst goal-scoring record in 100 years and their chances of European football next season hinging on their 2022/23 Champions League campaign.