Chelsea are still looking for more quality players to join Thomas Tuchel in building his squad again at Stamford Bridge after injuries have sidelined some of his key players.
Ousmane Dembele has been linked to join Tuchel at Chelsea as he will leave Barcelona before 31st of January, 2022.
Moussa Sissoko, the agent Dembele, has been spotted arriving at the El Prat airport in Barcelona, as per Mundo Deportivo.
The plan is to meet for one final time with Barcelona to discuss Dembele's future.
Meanwhile, Diario Sport claim that the intention of both parties is to agree to an extension. Up until now, Dembele has rejected all of Barca's offers. The Catalans want to offload him in case he doesn't end up renewing.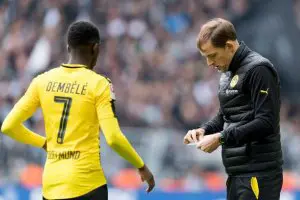 It's said that the Frenchman is asking for a massive salary increase, something Blaugrana cannot afford at the moment.
After the meeting at Barcelona, Dembele and his agent were reportedly sighted in London to continue his contract talks.
Chelsea could be the beneficiary as Dembele could rejoin his former manager, Thomas Tuchel.
Tuchel coached him at Borussia Dortmund and was quoted to have said that he was lucky to have coached him at the German Bundesliga side.