Kai Havertz has had a great impact at Stamford Bridge and he has been very vital in the Chelsea squad helping them win some major trophies during his short spell at Chelsea.
On the other hand, Bruno Fernandes has played a great role in the Manchester United squad helping them win many games but not trophies. Although Bruno has had an opportunity to help Manchester United win a major European trophy in a final match, he failed to help them score winning goals. Therefore, Havertz has had a bigger impact at Chelsea than Bruno Fernandes has for Man united, in terms of helping the team win trophies.
Since Bruno Fernandes joined Manchester United on 30th January 2020, he has been very instrumental to the first eleven team. His signing was seen as one of a kind which was bringing a game-changer at Old Trafford. Many fans expected that Bruno will help United win many trophies including UEFA Champions League and Europa League. However, Bruno has failed to lead United to win even a single trophy since he arrived at Manchester United.
On the contrary, Kai Havertz has played a very fundamental role in Chelsea's success since his arrival at Stamford Bridge in September 2020. Havertz's arrival at Stamford Bridge was very sensational, as many people expected him to start big and have great success at Stamford Bridge due to his previous success at Bayern Leverkusen. However, Havertz started his career at Chelsea in a low tone as he had little time to play under Frank Lampard. Despite the latter, he continued working hard and being committed to doing better every day until he became very instrumental to Most Chelsea's crucial games. When Thomas Tuchel arrived at Stamford Bridge to replace the fired Frank Lampard on 26th January 2021, Havertz started having more playtime.
Havertz later become a crucial player in Tuchel's first eleven, and he contributed greatly to his success at Stamford Bridge. Up to date, Havertz has helped Chelsea win three trophies within a short period. He was very pivotal in Chelsea's Champions League victory over Manchester City on 29th May 2021 where he scored the winning goal in the 42nd minute.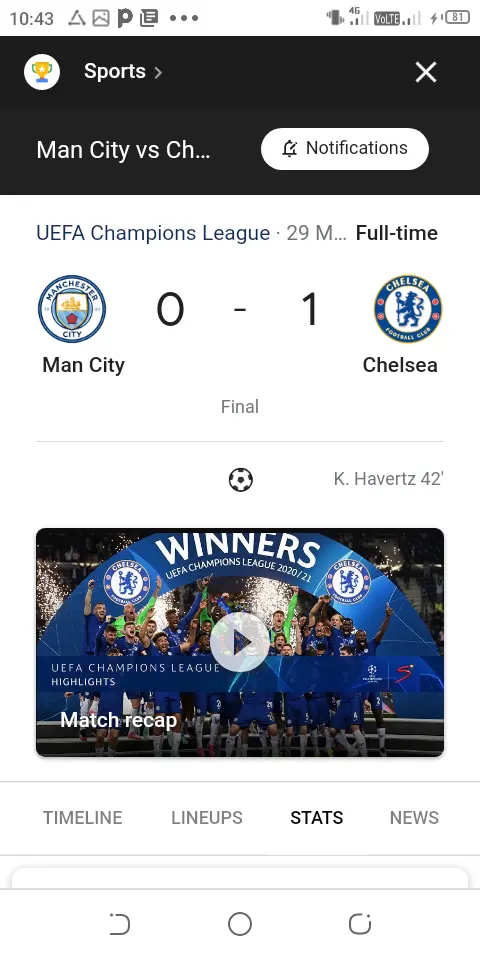 Later on, Havertz became Chelsea's hero once again by scoring the winning goal In the FIFA club world cup against Palmeiras on 12th February 2022. Therefore, Havertz has had a great impact in helping Chelsea win two trophies as he was directly involved in the two victories.
On the other hand, Despite Manchester United reaching the Europa League final, Bruno Fernandes failed to help them become Champions. He failed to score or give the team to give Manchester a win. This led to a draw during the extra time and Manchester United was eliminated on penalties. Therefore, although Havertz has been at Chelsea for a shorter period than Bruno in Man United, Havertz has had a bigger impact at Chelsea than Bruno has for Manchester United, in terms of helping the team win trophies.