Chelsea manager Thomas Tuchel is still hoping to land his dream targets in the incoming summer transfer window after literally being linked with Highly profiled players like Raheem Sterling and the likes of Jules Kounde who can actually help the Germany tactician resharpen his squad.
Tuchel's main priority will be signing at least two centre-backs and a Striker in case of Romelu Lukaku's exit but the latest reports signifies that he's a step closer to landing one of the lethal strikers in EPL right now.
According to Mirror Football, Chelsea have informed Gabriel Jesus representatives that they will be making a bid towards signing the 25 year old Brazilian striker who's viewed as a perfect replacement for struggling Belgium forward.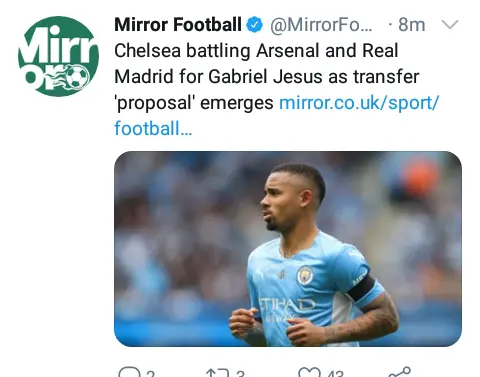 The Blues are hoping the get the deal done ahead of London rivals like Tottenham Hotspurs and Arsenal and therefore a move will be a good investment for the Stamford Bridge heavyweights.
Meanwhile, Real Madrid have offered a chance to sign Gabriel Jesus but it's like they are already packed.