Kylian Mbappe and N'Golo Kante have both been at the heart of French team performance in the recent past with both producing outstanding displays. The Paris SG and Chelsea aces respectively are also great friends off the pitch and sometimes spend time together having fun.
N'Golo Kante has however pulled out of the French team due what was termed as personal reasons. It is however unclear under which circumstances was the brilliant midfielder able to withdraw from the team. His teammates however remained silent if the matter.
According to frank Khalid, mbappe has outlined the funny thing about the blues midfielder. He explains how the former Leicester man 'cheated' on him as they played cards. "One time when we were playing cards, I saw him put a card in his pocket and he knew that I saw him. He just smiled at me and I whispered, 'cheater".
It is however unknown how the game ended and how Kante was able to get away with this game malpractice.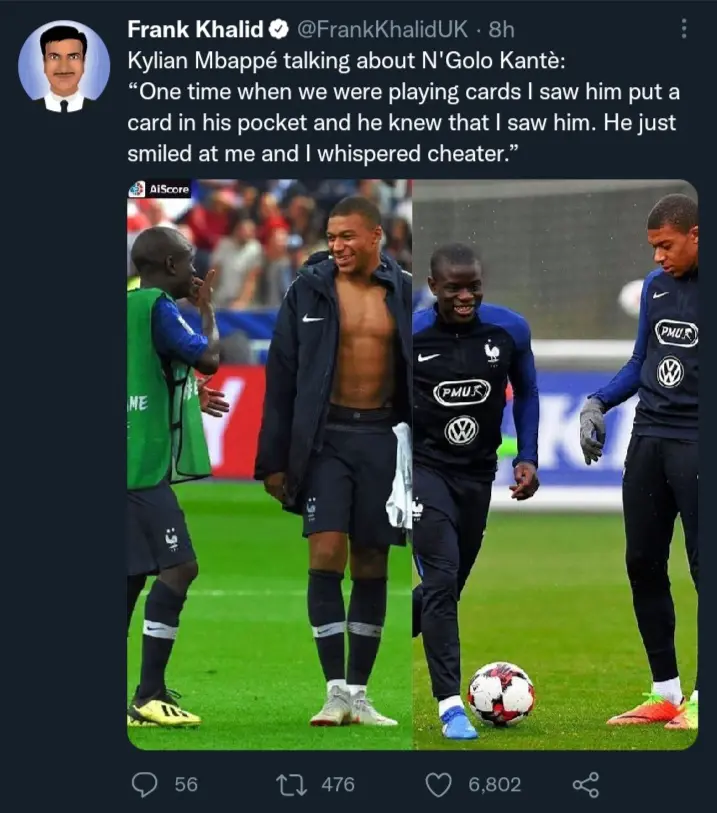 Drop your comments on this matter and outline what you have done if you were representing mbappe in this fun game? What would you tell N'Golo Kante?