Manuel Ugarte and Moises Caicedo exchanged shirts after Ecuador defeated Uruguay 2-1 in an important World Cup qualifier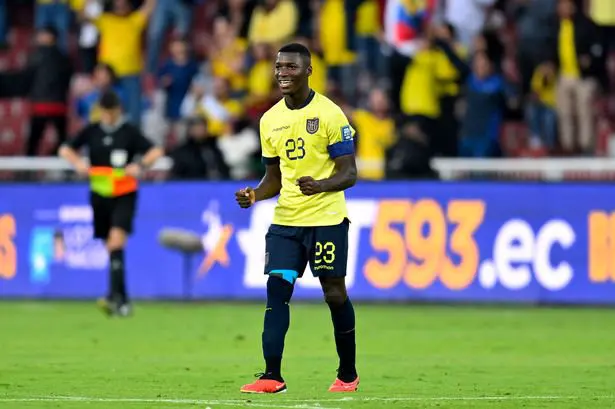 Manuel Ugarte has sent Moises Caicedo a one-word message following Ecuador's 2-1 win over Uruguay in a crucial World Cup qualifier. The 22-year-old midfielder was heavily linked with a move to Chelsea in the summer but, after Paris Saint-Germain submitted a far more lucrative offer, he opted to join the French giants instead.
The Blues quickly turned their attention to Caicedo, who was signed from Brighton for a British-record fee, before Mauricio Pochettino further bolstered his squad with the additions of Lesley Ugochukwu and Romeo Lavia. Nevertheless, Ugarte clearly enjoyed locking horns with the Chelsea duo – even if Kendry Paez did leave him tumbling in his tracks.
"@moises_caicedo55 Crack *clapping emoji*," wrote the PSG star on his Instagram story, captioning a picture of Caicedo's match-worn Ecuador shirt. Reposting the message on his account, the Blues ace wished Ugarte all the best and wrote: "Todo lo mejor crack *clapping, handshake and fire emoji*."
While the Chelsea and PSG stars have exchanged pleasantries on social media, it has been Paez who has stolen the headlines for his performance against Uruguay. Speaking on ESPN, South American football expert Tim Vickery claimed it was an 'absolute joy' to watch the 16-year-old, who will join the west Londoners in two-years.
"Paez operated on the right of a midfield trio. Left-footed but able to go either way, there was a swagger and a style about his football, a casual ease of accepting responsibility to set up the play, that was a joy to watch.
"He did not last the entire game — that would have been too much to expect — but by the time he left the match, with some 20 minutes to go, he had laid on the winning goal. Caicedo started to vary the repertoire.
"He worked some short corners, and from one of them he slipped Paez, his future Chelsea teammate, to the bye-line. Paez played in a low cross and there was Torres once more, this time stretching out a leg to win the game."
Andoni Bombin, head of academy at Independiente del Valle, also heaped great praise on Paez. Speaking to the Mail Online, he said: "All of the people in Ecuador are really happy for him.
"They understand if he has success, Ecuador is going to have success. I think that Chelsea understand that this [signing him] is an investment, a good project. If I was a club I'm going to do the same.
"Right now in the market there is a big fight between all the clubs. You need to select the talent as soon as possible. If you don't do that another one is going to do it.
"Now is the moment to try to identify the talent and try to get the talent with you and even if you need to wait for two years. It needs investment and you need to bet on this [talent] so I think the decision is the proper decision."