Arsenal boss Mikel Arteta has called up England-born Nigerian 16-year-old midfielder Ethan Nwaneri for the first-leg of the Gunners' pre-season tour.
According to the Mirror, Nwaneri is one of three teenage academy prospects picked by Arteta.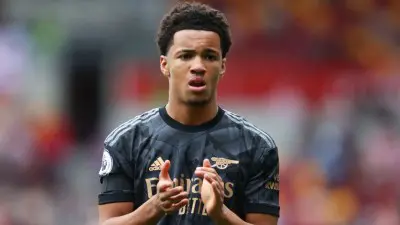 Ethan NwaneriArsenal are currently out in Germany gearing up for a pre-season friendly against FC Nuremberg, where all three of Nwaneri, Myles Lewis-Skelly and Reuell Walters could feature.
Nwaneri is known to fans after he became the youngest player in Premier League history last term when he made a cameo appearance against Brentford at just 15 years and 181 days.
He would be the most likely given he has already tasted life as an Arsenal first-team player, who recently put pen to paper on a scholarship but cannot sign a professional contract until he turns 17 in March.
Meanwhile, once the German leg of the tour is complete, the Arsenal squad will fly out to the USA where three considerably more high-profile opponents await them in the form of the MLS All-Stars, Premier League rivals Manchester United and Spanish titans FC Barcelona.