Welcome to the latest transfer window news, update, rumours and official done deals this hour as Chelsea set for new midfielder after PSG hijacked Ugarte deal.
Paris Saint Germain have completed signing of Manuel Ugarte and Marco Asensio as they both undergoing medical tests in Paris ahead of their move to PSG.
"Medical tests ongoing for Manuel Ugarte and Marco Asensio in Paris. 🔴🔵✅🩺"
Marco Asensio and Manuel Ugarte will both undergo medical tests in the next hours at PSG. 🔴🔵 #PSG

◉ Ugarte will sign until June 2028;

◉ Asensio will sign until June 2027;

◉ Jorge Mendes took care of both deals and he's also in Paris to complete all the documents. pic.twitter.com/BdSKHRM8Hy

— Fabrizio Romano (@FabrizioRomano) June 5, 2023
🚨 Manuel Ugarte to PSG, here we go! Understand the player is ALREADY in Paris set for medical — he'll sign the contract today. #PSG

PSG will pay €60m to Sporting, Chelsea left the race 12h ago and Ugarte will join PSG as Campos closed the negotiation.

Ugarte + Asensio ✅ pic.twitter.com/IvM2Jpr6Wn

— Fabrizio Romano (@FabrizioRomano) June 5, 2023
Marco Asensio will be in Paris today to complete medicals and sign contract as new Paris Saint-Germain player. Here we go confirmed. 🔴🔵 #PSG

Contract will be valid until June 2027, joins as free agent.

Jorge Mendes will be in Paris too, as @relevo @mattemoretto reported. pic.twitter.com/v8Vcyn7Ebo

— Fabrizio Romano (@FabrizioRomano) June 5, 2023
"Paris  Saint-Germain will start paying the €60m release clause of Manuel Ugarte to Sporting next year, in summer 2024 — payment will be made in five years. 🔴🔵 #PSG
Ugarte will be unveiled today as PSG player on five year deal."
Brighton News
Brighton have made second summer signing as James Milner joined from Liverpool after Joao Pedero deal completed.
Brighton will unveil both James Milner and Mo Dahoud as new signings very soon. Both will join Liverpool on free transfer. 🔵🤝🏻 #BHAFC
Brighton are set to sign James Milner, here we go — the final proposal and all the clauses have been accepted. Deal will be valid until June 2024. 🚨🔵🏴󠁧󠁢󠁥󠁮󠁧󠁿 #BHAFC

Milner will join Brighton on free transfer from Liverpool; second signing imminent after João Pedro deal completed. pic.twitter.com/L0QN7e8ZyE

— Fabrizio Romano (@FabrizioRomano) May 5, 2023
Chelsea News
Chelsea have confirmed they have come to an agreement to complete the first transfer since appointing Mauricio Pochettino but they will have to wait to see their new star in action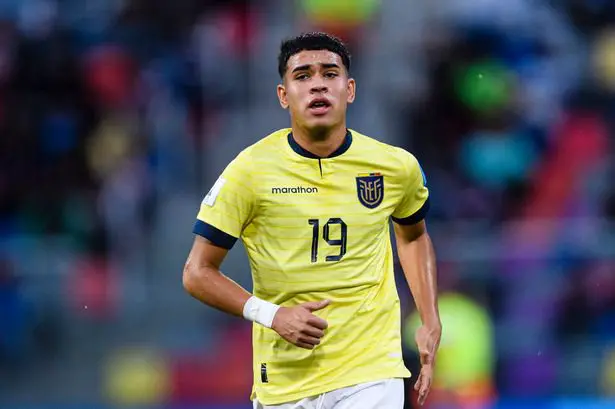 Chelsea have confirmed they have come to an agreement for the signing of Kendry Paez from Independiente del Valle. The 16-year-old will join the Blues after his 18th birthday.
The youngster has most recently participated in the under-20 World Cup with Ecuador. He made quite the impression after recording a goal and three assists in four appearances.
Paez's talents have lauded having being regaded as the top talent of the the 2022 Next Generation Trophy, a youth tournament in Austria and starred for Ecuador at the under-17 Copa America where he captained his nation and racked up two goals and six assists.
Tottenham News
Ange Postecoglou has become Spurs new manager, deal valid until June 2025.
Understand Tottenham have finally reached verbal agreement with Ange Postecoglou as next manager. #THFC
Been told it will be a two year-deal with an option included for further season, so potentially valid until June 2026.
Next step to get it done: find a way with Celtic.
Ange Postecoglou has already agreed terms of the contract with Tottenham as reported in the morning: deal until June 2025, one more year option included. 🚨⚪️ #THFC

The only step needed is to get the green light from Celtic; then Ange will become new Spurs head coach. https://t.co/Lx4kRxVf1j

— Fabrizio Romano (@FabrizioRomano) June 5, 2023
🚨 Ange Postecoglou will become new Tottenham head coach, here we go! The agreement on two year deal plus option for further season has been reached as revealed in the morning. #THFC

Green light on final clauses, time to seal compensation documents with Celtic — then, official. pic.twitter.com/FMENF41uC3

— Fabrizio Romano (@FabrizioRomano) June 5, 2023
Liverpool News
Liverpool have completed signing of Alex Mac Allister from Brighton until June 2028 as every thing done and set to be unveil as Reds player.
🚨 Alexis Mac Allister to Liverpool, here we go! Full agreement completed on the contract — understand it will be valid until June 2028. Five year deal. #LFC

Liverpool will pay the buy out clause in the next days, way less than reported £60m fee.

Medical tests in 24/48h. Done. pic.twitter.com/r6Tk8TeQT9

— Fabrizio Romano (@FabrizioRomano) June 5, 2023
Messi News
Barça director Mateu Alemany on Leo Messi: "There are a lot of things that need to be considered regarding Messi, including La Liga's approval". 🔵🔴 #FCB
"No details can be given until this issue is resolved. We are waiting".
After meeting with Barcelona, Laporta, Messi yet to reveals his future for Braca.
Barcelona were not able present official bid to Messi yet during the meeting. 🇦🇷
Both sides feel time is running out… but Laporta and Jorge Messi have decided to take some hours to see if there's a 'creative' solution.
Meanwhile, Leo's decision process is already advanced.