American winger Christian Pulisic has face his club teammates in the world Cup group stage after England and USA were drawn in Group B.
In November 2022, the FIFA World Cup will kick off in Qatar. As the qualifying phase comes to an end, all of the competing teams have been decided. The FIFA World Cup in 2022 has already been confirmed for 30 of the 32 teams.
The quadrennial competition will feature the majority of the world's football powerhouses. But who is the most powerful among them? In their run to the World Cup, who has been the most dominant?
Without further ado, here are the top five favourites to win the FIFA World Cup in 2022.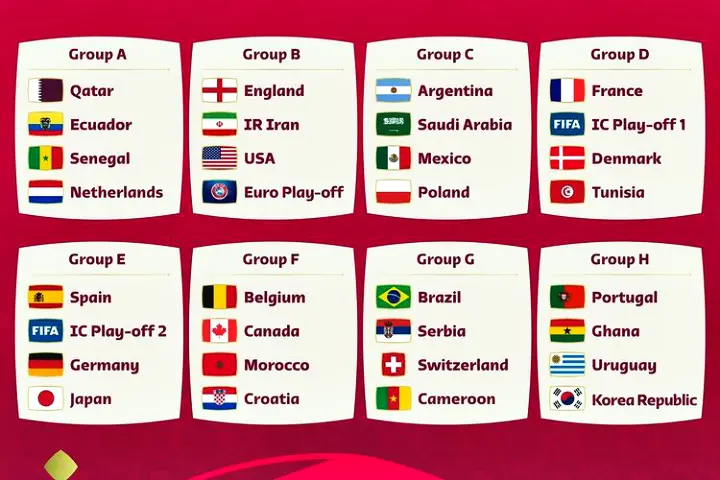 1: France
France appeared to be stumbling through Euro 2020 until Switzerland knocked them out in the Round of 16 with a blitzkrieg-style performance. Les Bleus were eliminated from the competition after losing on penalties to the Swiss in a tournament in which they were largely regarded as favourites.
The France team that won the 2018 FIFA World Cup is nearly unchanged. However, several of their brightest performers from their historic victory are no longer performing at their best.
Didier Deschamps can still rely on a number of world-class players. After winning the UEFA Nations League in October, they will be optimistic about their chances.
2: Brazil
In the CONMEBOL World Cup Qualifiers, Brazil was undoubtedly the most dominant team. They have gone undefeated in their qualification campaign, winning 14 of their 17 games. With a goal difference of +35 and only five goals conceded, Neymar Jr. and his teammates were a force to be reckoned with.
According to Neymar, this could be his final World Cup. Across the pitch, the Selecao are blessed with several outstanding technicians. They have some good attackers, with Vinicius Jr. and Antony expected to create a devastating attacking combination alongside the PSG star.
3: England
England has always been regarded as one of the world's most powerful football nations. Unfortunately, their trophy haul does not represent the immense talent that has always existed among their ranks.
At the most recent World Cup, England performed admirably. They did have a set of fixtures that were a bit of a fluke. They did, however, play some excellent football and advanced to the semi-finals before losing to Croatia. Furthermore, they were also fantastic at Euro 2020, and it felt a little unfair when they lost in a shoot-out to Italy in the final.
4: Argentina
This will most likely be Lionel Messi's final World Cup appearance. He's had a difficult season with PSG, and there's a sense that his abilities are waning.
Last summer, however, Messi guided La Albiceleste to a successful Copa America campaign. He was named "Player of the Tournament" after scoring four goals and providing five assists.
Lionel Scaloni has an excellent team at his disposal. Argentina has gone undefeated in their World Cup qualifying matches, but they haven't been as dominant as their record suggests.
5: Spain
Over the previous decade, Spain has been Europe's sleeping giant. However, they have looked formidable under Luis Enrique, reaching the Euro 2020 semi-finals before losing on penalties to Italy last summer.
They followed it up with a run to the UEFA Nations League final in October of last year. In the semifinals, La Roja ended Italy's 37-game unbeaten streak to set up a battle with France. They were eventually defeated by Les Bleus, but it helped Spain reclaim their position as one of Europe's top teams.