The Premier League clash between Chelsea and West Ham United on August 20, 2023, was a match of intense anticipation, resulting in a 1-1 draw in the first half. The game not only showcased the teams' overall performance but also highlighted individual player contributions, both positive and negative, in Chelsea's first-half display.
Best Players:
Enzo Fernández stood out with his remarkable control over the midfield and precise distribution although he missed a penalty that could have given Chelsea the lead. His ability to orchestrate attacks and maintain possession played a crucial role in Chelsea's offensive efforts.
Chukwuemeka
Chukwuemeka's youthful energy and exceptional skill were on full display. His presence in the midfield brought dynamism and creativity, setting the tone for Chelsea's gameplay and he was duly rewarded with the equalising goal.
Thiago Silva
Thiago Silva's experience and defensive expertise were evident as he held the backline with composure and tactical awareness. His leadership and organizational skills contributed to Chelsea's solid defensive structure.
Conor Gallagher
Gallagher's standout performance couldn't be ignored. His ability to find the back of the net and his relentless work rate bolstered Chelsea's midfield and attacking endeavors.
Worst Players:
Raheem Sterling struggled to find his rhythm in the first half, leading to unproductive plays. His lack of precision and decision-making hindered Chelsea's attempts to break through the opposition's defense.
Nicholas Jackson
Nicholas Jackson's first-half performance was marked by a lack of impact in the midfield. His inability to contribute effectively to ball retention and offensive plays was a notable weakness.
Gusto
Gusto's midfield presence failed to make a significant impression, with inconsistent passing and an inability to control the tempo of the game. His contribution did not align with Chelsea's expectations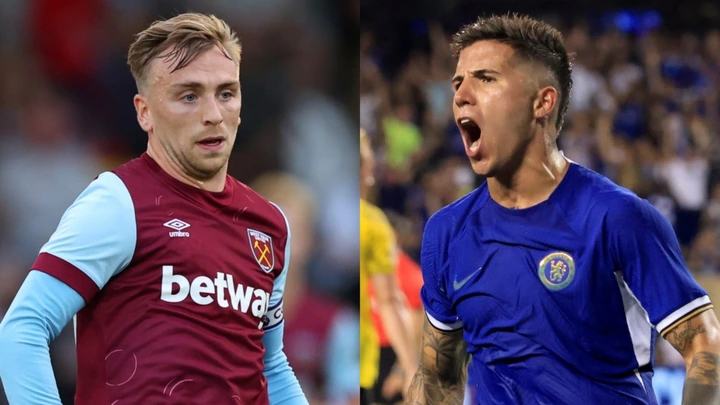 In summary, the Chelsea vs. West Ham United match in the first half exposed a mix of standout and disappointing performances from individual players. Enzo Fernández, Chukwuemeka, Thiago Silva, and Conor Gallagher demonstrated their value to the team with their impressive contributions. On the other hand, Raheem Sterling, Nicholas Jackson, and M. Gusto struggled to meet the demands of the game, affecting Chelsea's overall performance. As the match progressed, both teams needed to regroup and strategize for a more decisive second half, aiming to secure a favorable outcome in this high-stakes encounter. Please note that the provided ratings are based on available data and may not encompass the entirety of the players' performances.